Events with GLOPACK
Thanks to our dedicated Partners, GLOPACK is continuously presented at different events all over the world!
Photo by Brett Zeck on Unsplash
2021
14 October 2021 – 3BCAR Forum Recherche-Industrie– Paris, France
3BCAR is a network working on biomass transformation for Bioenergies, Biomolecules and Biobased materials.
Their forum was a great opportunity for the University of Montpellier to present GLOPACK.
26-29 September 2021 – CIRCUL-A-BILITY Conference
The conference included research focused on sustainable food packaging solutions, under the CIRCUL-A-BILITY COST Action community (CA191249). As whole systems approach is needed, this conference will bring together scientists with different backgrounds to share research results, debate ideas and solutions and collaborate for a swift green transition to more sustainable packaging.
The applicability of PHBV thermoformed trays to pack fresh food products under modified atmosphere packaging was presetned by Pack4Food.
10 September 2021 – Annual Meeting of Hungarian Scientific Writers– Tihany, Hungary
Hungarian Scientific Writers always look for interesting topics to discuss and publish. Innovative and sustainable packaging was one the main topics of their Annual Meeting.
Campden BRI Hungary presented GLOPACK. The presentation focused on on the consumers' perspective on sustainable packaging, food waste and food choices and new directions of consumer education!
9-12 August 2021 – 14th Pangborn Sensory Science Symposium
The 14th Symposium showcased the research of fundamental and applied sensory and consumer scientists from a cross section of early and advanced career participants representing industry and academia.
The theme for the 14th Symposium 'Sustainable Sensory Science' acknowledges the challenges that impact our current research approaches such as food security, globalization, corporate cost cutting, fast-adapt product development, the expansion of data collection, cultural diversity and maintaining the relevance of our discipline to name a few.
A GLOPACK poster was presented at the 14th Pangborn Sensory Science Symposium.
16 April 2021 – IfM Open Innovation (OI) Forum: Sustainable Packaging Interest Group
The Open Innovation (OI) Forum offers a programme of expert support and opportunities for companies from all stages of the Food, Drink & FMCG value chain. As companies look to advance their technologies, the Forum helps members to combine their internal thinking with external insights, ideas and paths to market.
24 February 2021 – 15th International European Forum (Igls-Forum*) (177th EAAE Seminar) on System Dynamics and Innovation in Food Networks
Igls Forum is joint initiative by agri-food groups of leading European and international universities and business schools providing a discussion platform for the European and international scientific community.
GLOPACK was represented by Campden BRI Hungary.
17 Februarty 2021 – Biofach Conference 2021
Biofach is trade fair and this year it explored the questions on the transition toward more environmentally friendly business methods and nutrition , for example: Shaping Transformation. Stronger. Together.
GLOPACK project was represented by Ecozept with a presentation titled: " Between Unpacked and Plastic Flood: Status Quo & Perspectives of Packaging in Practice, Research and Policy ".
18-19th January 2021- NoAW Final Webinar
The NoAW final webinar focused on the current and upcoming innovations in agro-waste management. Experts across continents shared their knowledge and experiences on successful innovative solutions, emerging tools, methods and technologies developed in NoAW project.
On the second day of the event, Valerie Guillard had her presentation on the possible ways to fight plastic pollution.
More on NoAW: https://noaw2020.eu/
2020
16th December 2020- Biovoices MML workshop: Bio-based materilas for food packaging: replacing plastics and addressing consumers' expectations
Biovioces project held a workshop to ease the dialogue among stakeholders in order to co-create recommendations and possible solutions to be taken to boost the adoption of bio-based packaging and create a favourable environment for consumers' habits change.
15th December 2020- 3rd joint MYPACK-GLOPACK-YPACK webinar: European consumers: perceptions of sustainable packaging
The webinar discussed the the results of a market segmentation analysis conducted to identify who are the consumers more interested in sustainable packaging.
Symetris presented of the results of the GLOPACK consumer studies.
27th November 2020- 2nd joint MYPACK-GLOPACK-YPACK webinar: Under – or over- packaging: how to find the right balance between packaging and food waste?
This webinar aimed to provide guidelines for sustainable packaging solutions, optimising packaging and reducing food waste.
University of Gent presented the results of the GLOPACK sustainability assessment.
🇫🇷 26th November 2020- CRÉER DEMAIN – 2 jours pour innover
On the 2nd day of the event, Symetris and our Stakeholder Platfrom member, Vitagora presented GLOPACK.
🇭🇺 19th November 2020- Campden BRI Open Day
The aim of the Campden BRI Hungary Open Day is to interract with the prominent representatives of Hungarian food industry and policy makers.
The main topic of this year's event was resource efficiency: good practices and methods in the food industry.
🇫🇷 5th November 2020- Emballages plastiques : enjeux et avenir ? Webinar
Our partner, Furst-Plast presented GLOPACK at a webinar with a title of Témoignage d'un plasturgiste – Future-plast .
🇭🇺 🇩🇪 26th October 2020- 1st joint MYPACK-GLOPACK-YPACK webinar: Bioplastics for Packaging: Challenges and Opportunities
The 3 sister projects, GLOPACK, MYPACK and YPACK decided to organise a series of webinar to present the project project on various topics.
The first webinar focused on the challenges and opportunities of bioplastics.
Ecozept and Campden BRI Hungary represented GLOPACK and presented the findings of the expert interviews and the GLOPACK position paper on the benefits of home compostable biodegradable materials for a sustainable food chain.
🇫🇷 26th October 2020- Mensuel du Recyclage- Monthly meeting of PELLENC St.
The GLOPACK objectives were presented at the monthly scientific meetings of PELLENC St. called "Mensuel du Recyclage" where all researchers of their R&D centers are invited.
🇭🇺 25th September 2020- EIT Food Awareness Day: How EIT Food is tackling the challenges of the food industry: through customer-centricity and boosting the innovation and entrepreneurship of the university students and young professionals
The EIT Awareness Day targeted university students and young professionals to present the opportunities offered by the EIT Food for them and also to start a dialogue on the challanges of the food industry.
The overall objectives of GLOPACK were presented during the section meetings.
🇫🇷 18th June 2020- 5th MYPACK Consortium Meeting (On-line)
One of our sister projects, MYPACK H2020 invited us to share our research objectives and achievement at their Consortium Meeting.
🇧🇪14 June 2020- ILSI Europe Webinar Food packaging is it just for protection or is there more to it
On 14 June 2020, our project partner, Pack4Food participated in an online event focusing on food packaging.
The webinar explored key concepts in food packaging functionality, convenience and how those aspects can be balanced with sustainability and safety.
🇬🇧3-10 June 2020- Campden BRI Experience
This year, the Annual Campden BRI Day was organised in a different format due to the COVID-19 pandemic.
The Campden BRI Experience was such a great and interactive way to get familiar with the activities of Campden BRI.
🇭🇺 21st April 2020- Hungarian GLOPACK webinar
Webinars are a great way to connect with people in times like this.
The aim of the webinar was to present the progress of GLOPACK to partners of Campdeb BRI Hungary.
🇩🇪 13th February 2020- Biofach Congress (Nürnberg, Germany, France)
BIOFACH is the world´s leading trade fair for organic food. It was the perfect opportunity for visiting professionals to meet organic producers from the organic market and be inspired by the sector's latest trends.
Ecozept, Fraunhofer and La vie est belle had a presentation with the title of "Sustainable packaging: how market actors put scientific findings into practice?"
🇫🇷4th February 2020- Plastiques [r]évolutions! of Deloitte Développement Durable (Paris, France)
Our Coordinator participated in a round table discussion organised by Deloitte Développement Durable where Valerie presented the GLOPACK activities and the scientific evolutions in the field of biodegradable packaging.
🇫🇷27th January 2020- Innovative solutions for food packaging workshop organized ANIA and the REINWASTE Interreg project (Paris, France)
ANIA (French National Association for Food Industries) and REINWASTE Interrog project co-organized a workshop focused innovative solutions for food packaging.
University of Montpellier presented GLOPACK and our way of dealing with eco-conception of eco-friendly food packaging and participated to the round table discussion.
2019
🇮🇹29th November 2019- MED project Embrace – "European Med-clusters Boosting Remunerative Agro-Wine Circular Economy" workshop (Venice, Italy)
EMBRACE project organized a workhop in Italy in order to support innovation processes in MED area according to the principle of Circular Economy.
GLOPACK project partner, Innoven and one of the Stakeholders' Platform members, Neru Su Bianco participated at the event.
🇭🇺26th November 2019- Campden BRI Hungary Open Day (Budapest, Hungary)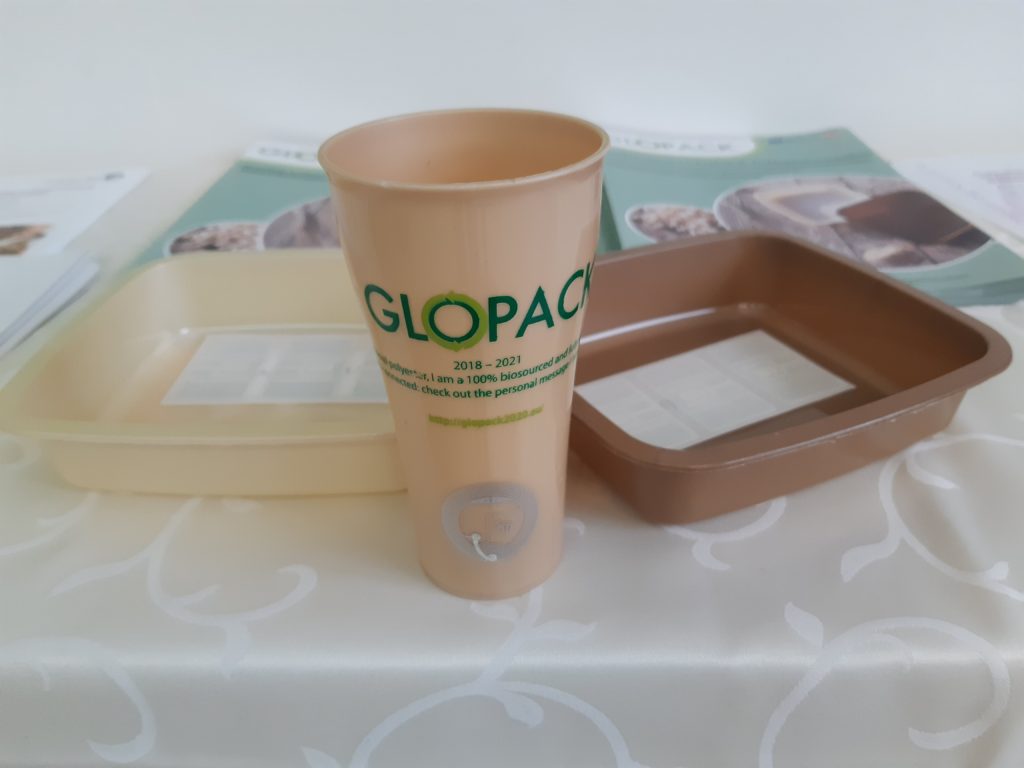 The aim of the Campden BRI Hungary Open Day is to interract with the prominent representatives of Hungarian food industry and policy makers.
The main topic of this year's event was the opportuntity of Modernization and Industry 4.0 can offer to the food indsutry.
GLOPACK had its own stand and was presented to the participants showing the main objectives and results available for the participants.
🇮🇪1st October 2019- 5th Annual Predict Conference (Dublin, Ireland)
Predict is Europe's leading data conference. It is designed to bring together thought leaders and innovators in the fields of data science, predictive analytics, artificial intelligence and technology.
Creme Global presented GLOPACK at this talk on data modelling to achieve better, more sustainable packaging.
🇵🇹27 September 2019- European Researchers' Night (Lisbon, Portugal)
The European Researchers' Night is an initiative funded by the European Commission, through Marie Curie Actions, aiming to celebrate Science and reduce the gap between researchers and citizens.
The main topic of this year was "SciCity – Science in the City". The theme seeks to respond to the main concerns of urban communities related to the global changes planned for the coming decades, highlighting the relevance of science to ensure the quality of life in cities of the future and the preservation of cultural heritage as an essential factor for sustainability.
iBET represented GLOPACK at this event.
🇮🇹12 September 2019-Residual Biomasses for Eco-compatible and Sustainable Food Packaging workshop (Trieste, Italy)
The workshop orgnized by the PROLIFIC Consortium focused on new technological and industrial solutions to transform agrifood waste into food products, animal feeds, packaging materials and cosmetic ingredients.
GLOPACK was presented by Coopbox.
🇭🇺11 September 2019-EIT Awareness Day: Innovative approaches in consumer science: practical applications in food and beverage sectors- for the Modernisation of the Hungarian food industry (Budapest, Hungary)
The approach of EIT puts the needs and concerns of consumers at the heart of the food value chain, co-creating ideas to drive a more resource-efficient, secure, trusted and transparent food system. During the Awareness Day, GLOPACK was presented by Campden BRI Hungary.
🇩🇪17 July 2019-Organic Food South Conference "Zero Waste" (Aichach, Germany)
🇵🇹18-10 July 2019- Ciência 2019, National Science Summit'19 (Lisbon, Portugal)
Ciência 2019 was the latest edition of the annual meeting of Portuguese researchers. It aimed at promoting a broad debate on the main topics and challenges of the scientific agenda beyond the world of research. The meeting main goal was to stimulate not just the participation but also the interaction between researchers, the business sector and the general public.
iBET represented GLOPACK at this event.
🇬🇧19 March 2019- Sustainable packaging: smart choices and shelf life testing seminar- IFE 2019, (London, UK)
The aim of this seminar was to help industry make informed choices on the types of materials and design of packaging that reduce plastic use and increase recyclability.
🇧🇪13-14 February 2019- ACIUS' European Biopolymer Summit 2019 (Ghent, Belgium)
ACI's European Biopolymer Summit 2019 brought together sexperts from biopolymers' manufacturers, chemical companies, and consultants, to discuss the latest changes, challenges and developments within the industry.
iBET represented GLOPACK at this event.
2018
🇭🇺17 November 2018– Confernece on "A ma iránt érzett felelősség a jövő záloga – átalakuló mezőgazdaság a Homokhátságon" (Szatymaz, Hungary)
The conference focused on the future opportunities of the agriculture in Homokhátság. Campden BRI Hungary presented the directions of new developments in vegetables packaging.
🇭🇺7 November 2018- Digitrends/ Logistics Conference (Budapest, Hungary)
Digitrends/Logistics aims at fostering discussion among corporates, research institutions and SMEs on the challanges of driving digital transformation in the field of logistics and supply chain management. The event will feature high-level keynotes from industry greats offering a glimpse of the experience, anticipation and challenges of going digital.
Campden BRI Hungary presented the connection of Industry 4.0/digitalization and the GLOPACK project.
🇭🇺31 August 2018- VII. Hungarian Paprika Day (Szentes, Hungary)
The main aim of the event to present and discuss the main results and new opportunities for the paprika sector.
Campden BRI Hungary presented the concept of GLOPACK in light with the features of modern vegetable packaging and product development.
🇩🇪5 July 2018- MyPack workshop: Innovating for the future of packaging in the frame of the EU Circular Economy strategy (Stuttgart, Germany)
The purpose of the MyPack workshop was to plan of future collaboration and mutual learning between GLOPACK and the other two H2020 granted packaging projects, MyPack and YPACK.